The Qubole Recognized Practitioner badge is recommended for QDS Platform Users, Administrators, Consultants, and Partners. This badge recognizes the competency of QDS platform users in the following areas:
Qubole architecture

Discovering data 

Creating a schema table

Writing and executing a command 

Creating and executing a notebook

Scheduling a command/workflow/notebook

Sharing collections and notebooks

Viewing cluster settings and dashboard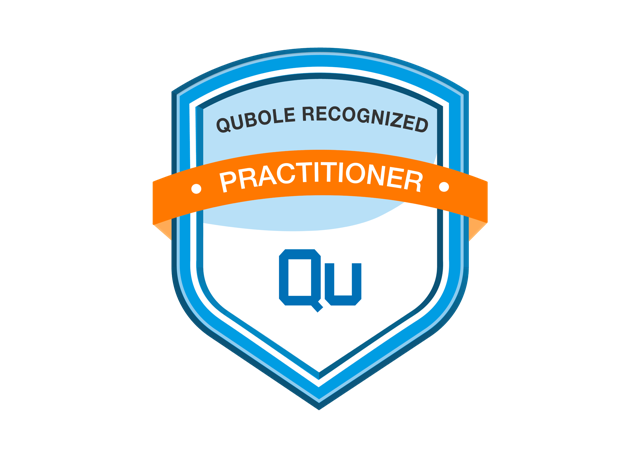 To earn this badge, you need to pass the Qubole Recognized Practitioner badge exam hosted at the Qubole university. The exam details are as follows.
Exam Duration: 1 Hour
Number of Questions: 50 Multiple choice questions
Exam Language: English
Passing Score: 80%
Difficulty level: Beginner to Intermediate
Number of attempts: 
Two consecutive attempts 

Gets locked after two unsuccessful attempts 

Gets unlocked after 7 business days
Recommended Training:
Steps to get started:

Step 1: Take the recommended training from Qubole University.
Step 2: Explore the QDS platform for at least a week and practice the areas mentioned above.
Step 3: Once ready, from the Qubole university, find the badge for which you wish to register and click the badge tile. 
Step 4: Go through the exam overview and then click Launch to register for the badge exam.