By Rasika Sarnaik Feb 28, 2020
Every era comes with its challenges. In today's era, coping with the ever-changing technology and choosing rightly from the available options are challenges we face every day.
A simple example can be - buying a new mobile phone from the pool of available options and using the phone that you bought to its maximum efficiency.
Here the advantage is, with the right guidance, we can turn this challenge of plenty into a privilege. But the irony is, the problem of plenty also applies to the available guidance. With the increased number of services and products, we also have a large pool of learning material. Many times, we struggle to find the appropriate learning modalities that will help us do our job right. 
The purpose of this article is to help you ask the right questions and, in turn, identify the most suitable learning modalities that cater to your needs.
Ask the right questions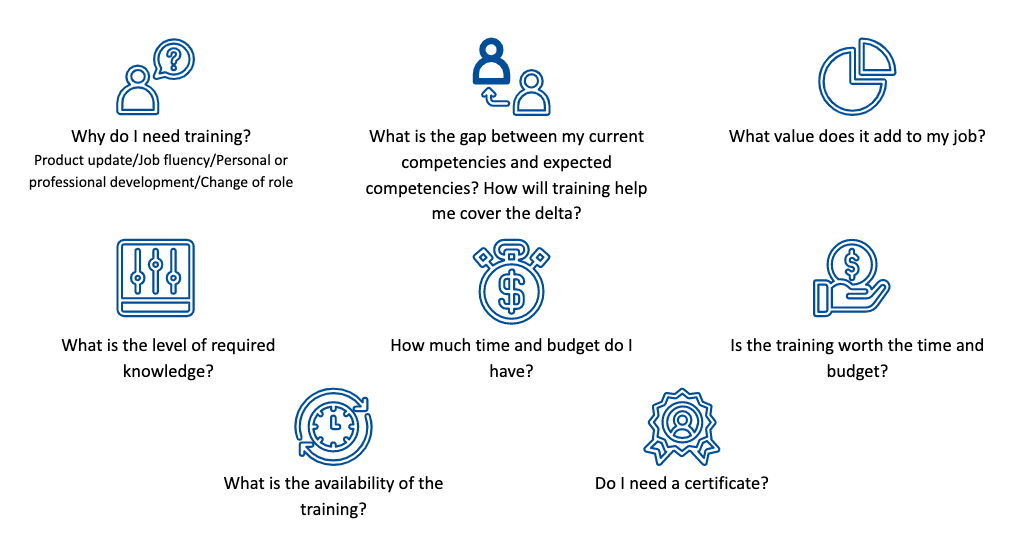 Available Options
As you ask the above questions, analyze the available options, and the value that they offer. The following matrix assists you to identify an effective modality based on your needs.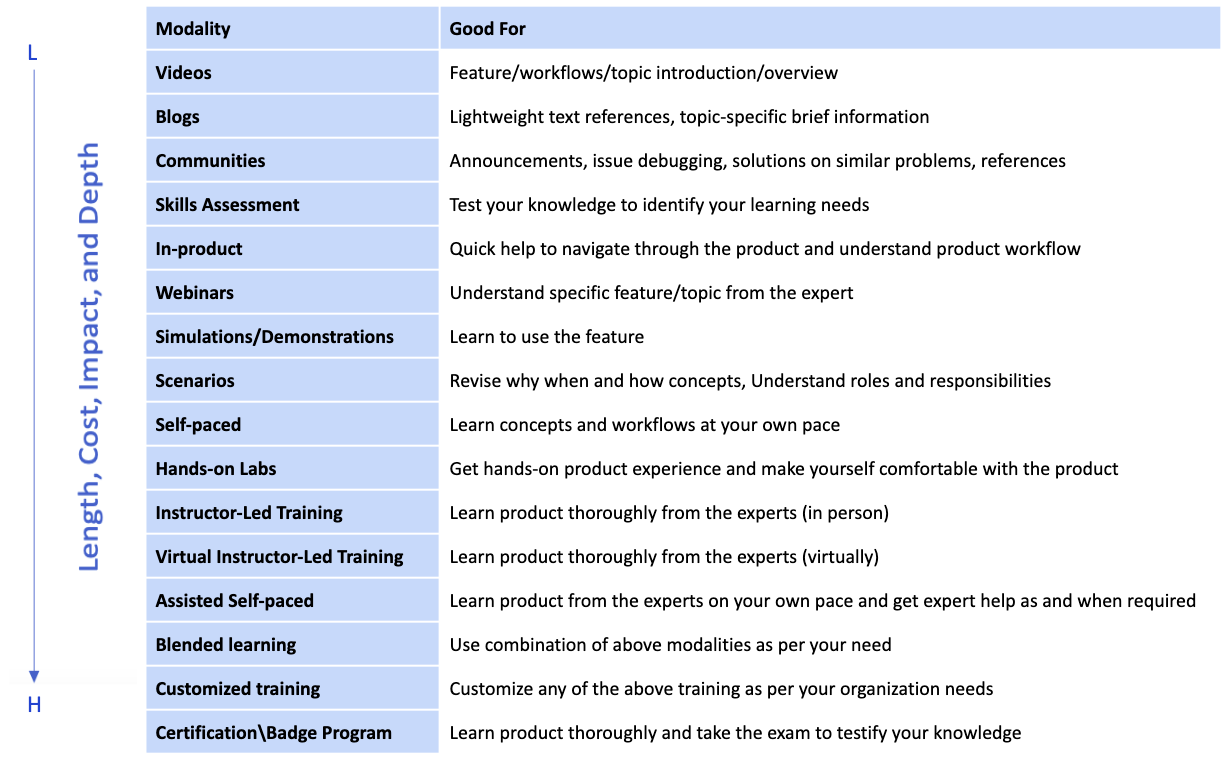 Now that you're aware of all the possible learning options and how to choose the right one by asking the right questions, take a look at the modalities provided by Qubole Education Services to enable all our Qubole Data Service users to use the platform effectively and efficiently. 
To begin with, at Qubole, we have different educational programs designed for different user roles. Some examples are:
Getting Started with Qubole for Administrators

Security & Data Governance (for Administrators) 

Getting Started with Qubole for Users, and so on
Each of these programs supports various learning modalities covering the same workflow. The depth of the content covered in each of the modalities varies and is designed to meet different learning styles.
For example, the following table illustrates how Qubole Education Services leverages many of the modalities from the available options for Getting Started with Qubole for Administrators program to meet your learning needs.
Modality
Good For
How to Access

Videos

Videos are typically very short and cover concept overviews or specific admin tasks and workflows.

Qubole - YouTube

In-product Guides

In-product guides provide just-in-time learning experiences for admins new to the platform.

Log in to the product to access the in-product guides

Simulations/Demonstration

Simulations are included in the eLearning modality to demonstrate how to perform specific admin tasks.

https://university.qubole.com/

Self-paced

The Self-paced eLearning modality includes lessons covering important concepts, guidelines, simulations, and knowledge checks for administrators.

https://university.qubole.com/

Hands-on Labs

Hands-on Labs provide a live environment and step by step guides for hands-on product experience.

https://university.qubole.com/

Note that Hands-on Labs are only available for the Users program.

ILTs/vILTs

The ILT & vILT modalities allow administrators to learn important concepts, workflows, demonstrations, and guidelines from the expert. It also offers a live QnA session.

For these sessions, write to us at

This email address is being protected from spambots. You need JavaScript enabled to view it.

.

Blended Learning

With blended learning, Administrators can combine any of the above modalities that suit their personal learning styles and needs.

Customized Learning

Qubole also offers customized learning as per the customer's needs.

For customized learning requirements, write to us at

This email address is being protected from spambots. You need JavaScript enabled to view it.

.
Apart from the above program-specific modalities, Qubole also offers the following additional ways to meet your learning needs:
Hope this information helps you find the right Qubole learning program. For further assistance, write to us at This email address is being protected from spambots. You need JavaScript enabled to view it.. Happy Learning!